Safely Using Propane Heaters in Work Tents

October 20, 2020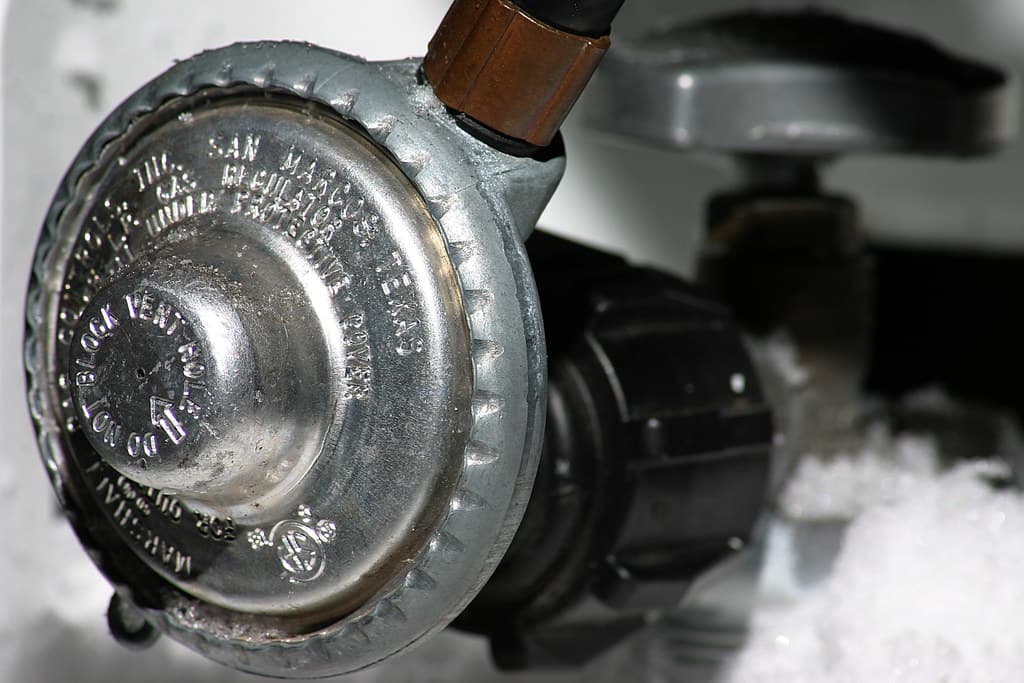 We explain how to stay safe and stay warm in your work tent using propane.
It's completely understandable to have reservations about using a propane-powered heater in your work tent. We're here to help you learn how to safely keep you and your crews warm. 
All things considered, it's probably a good sign that you're at least a little concerned about using gas in a space like this. Afterall, here at Pelsue, safety is our number one priority. 
And when we think about safely using propane in a small space like a work tent, we think first and foremost about how much gas is emitted. Preventing safety hazards here begins with using equipment carefully engineered and manufactured with safety in mind.
The good news is that, assuming your heater is properly maintained and regularly inspected, it's both a safe and efficient way to keep your tents and other ventilated workspaces warm. 
Here, we're going to outline a few important safety tips for using your heater. Before we do, it's important to know that this blog is no substitute for reading your product manual and properly training your crews in using the tent heater.
This safety advice is based on the Pelsue Infrared Tent Heater, after all it's the tent heater we know (and like) best. You may have a different heater, and it's important that you follow the instructions for that device. We're going to go over a few common-sense precautions that apply universally, but certain important details may be different. 
With that said, let's dive in. 
Inspecting Your Tent Heater 
Just as with any piece of workplace equipment, you should regularly conduct a thorough inspection of your tent heater. 
Whenever you work with liquid propane gas (LPG), it's essential that you inspect all fittings and connectors to ensure that they're tight and undamaged. Many of the hazards people associate with propane heaters stem from potential LPG leaks. Preventing those leaks starts with inspecting these connections. 
There are connections between the LPG tank and regulator, between the regulator and the hose, and between the hose and the heater valve, all of which need inspection. 
Make sure the pipe joint compound in use is LPG resistant. Otherwise, the propane will eventually dissolve the compound. 
The couplings are particularly sensitive, but it's important to inspect every other inch of the plumbing for leaks. This is not limited to the hose connecting the tank to the heater but includes the copper pipes in the base of the heater. 
From there, make sure the feet of the heater are properly attached, and check that the valve knob is present. Turn the knob to test that the valve control rotates in accordance with the valve decal. 
Check that the guard surrounding the heater is intact and installed correctly. Lastly, check the area around the heater and remove any objects and combustibles that could potentially come into contact or ignite from the heater. 
Again, these are things that should be part of every routine inspection, but this is not the end-all-be-all checklist. Additional steps will depend on your location and specific model of heater. 
Whatever you do, if you see signs of liquid fuel or oil contamination anywhere in the heater, fuel inlet, or base, DO NOT USE THE HEATER. 
Safe Locations for Using Your Tent Heater
When choosing the right spot to set up your tent and heater combination, common sense is your best guide for safety. 
The first crucial step is to set up the heater on a secure, level surface. The wide base and the rubber feet on the Pelsue Infrared Tent Heater help give it added stability, but if the ground is unstable, there's going to be an increased risk of tip-over. 
Fortunately, the Pelsue tent heater is built with tip-over shutoff protection. Even still, setting up your heater on level ground is the only safe way to operate. 
There is also potential exposure to the elements to consider. Exposure to wind and water (whether standing or dripping) can impact the performance of your heater and potentially affect the components. 
Your heater should only bet set up in a well-ventilated area, which helps minimize the dangers associated with possible leaks of propane gas. This means that you'll need to keep the tent door open, which may seem counterintuitive on very cold days, but good tent heaters are designed to compensate for this. 
Wherever you set up your heater, it should have the proper clearance from the walls of the tent or any other inanimate objects that might catch fire. 
At least 18 inches should be clear from the sides and back of the heater, and at least four feet should be between the top of the heater and the ceiling of the tent. The front of the heater should also be at least four feet away from the tent's walls. 
The best way to comfortably achieve this clearance is to position everything so that the heater is located in the corner diagonally opposite from where the bulk of the work will be taking place. That way, even in a 6×6 tent, there's still plenty of clearance on all sides. 
Lastly, make sure you note where your LPG container is in relation to the heater. The heater should be at least six feet away from the tank, and it should not be pointed at any LPG cylinder within 20 feet. 
Always take the time to survey your location before setting up. The extra couple minutes are essential for safety. 
Using Your Tent Heater with a Pelsue Work Tent
Following the tips outlined above will help you rest assured that you're operating your heater safely. These common-sense precautions help remove some of the worry around the use of propane in such close quarters. 
When paired with one of our trusted work tents, you have a safe, sure way to keep your crews comfortable while working in unfavorable conditions.
Across the United States, average temperatures drop precipitously heading into November. Nearly everywhere north of the imaginary line formed by North Carolina, Oklahoma, and Arizona sees a monthly average below 50 degrees. Central California is the biggest exception, but if you're used to California temperatures, fifties can sometimes seem downright chilly.  
Our Standard Series, Trench, High Rise, and Interlocking tents feature the combination of insulating fabric and safe ventilation that helps you use your heater safely and effectively. Our All-Weather and SolarShade® tents offer additional protection from UV exposure, if you're working in a place where the weather is known to change. 
Wherever you're working and whatever the weather, our goal at Pelsue is to help you get the job done safely. And with our propane-powered Infrared Tent Heater, you can do it comfortably too.
Share: