OSHA Checklist: Fall Protection Equipment Inspection

September 28, 2020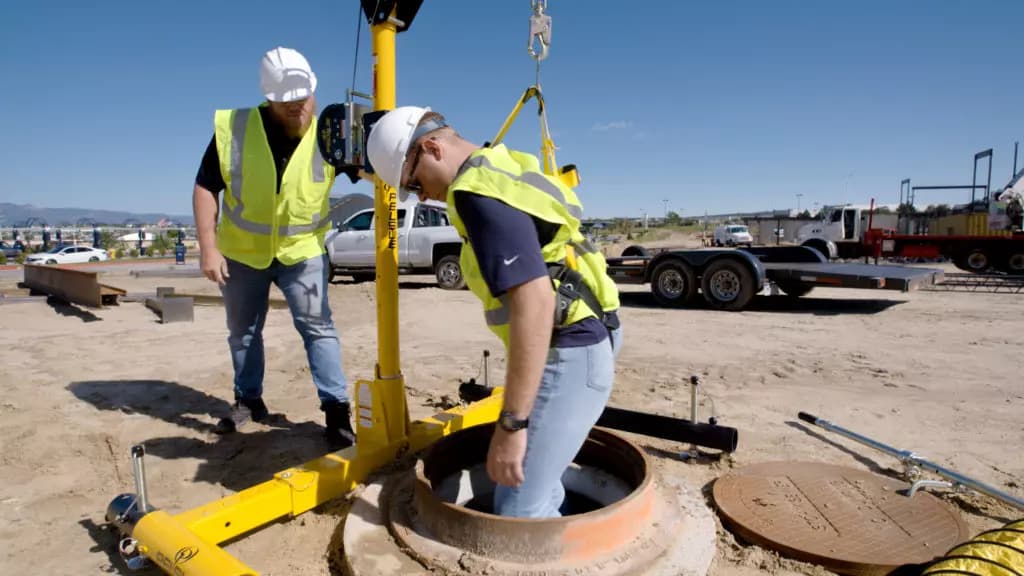 Conducting a thorough visual inspection of your fall protection and Personal Protective Equipment (PPE) is a crucial and necessary step before undertaking any job. We wanted to help both standardize the task and make it easier with an OSHA inspection checklist for fall protection equipment. 
We pored over our product manuals, OSHA standards, and demonstration videos to create comprehensive checklists for workplace inspections. In the interest of promoting worker safety, we decided it was time to make this scattered information more accessible. 
We've created a free, downloadable and fillable PDF for you to use on your phone, tablet, or laptop. This can serve as your new, dependable inspection checklist. You can also print it out, laminate it, and write on it with a dry erase marker for a low-tech version. 
You can download the PDF OSHA inspection checklist by clicking the link at the bottom of this post. But if you want to go into more depth about what your crew needs to be looking for during inspections, keep reading. 
Before we link our checklist, we find it crucial to break down a few of the items all employees should look for.  
We'll start by breaking down the PPE inspection process today–all the tools that connect you with your fall arrest device. Not every tool here may be part of your system, which should—at minimum—consist of a harness, anchor point, and line connecting the two—such as a hoist or SRL. 
Harness Inspection  
Start your inspection of your harness by checking the D rings, the metal connectors that you clip to the carabiner or lanyard. Check to make sure the ring is undamaged and free of rust or corrosion. Pelsue harnesses feature a dorsal D ring (located on the wearer's back, like a shark's dorsal fin). Other manufacturers' may have D rings elsewhere on the harness, but the inspection process is the same.  
Even slight damage increases the risk of failure, so remove the harness from service for repair or replacement if you encounter any defects in the D ring (or any other part) during inspection. 
Next, move on to the webbing, the straps of the harness. Check the fabric to make sure there's no fraying, tears, chemical or burn damage. Also be sure to inspect the stitching on the harness. If any of the threads are loose, it could be an indication the harness was damaged in a fall and needs to be removed from service. 
Check the buckles to make sure they're secure and undamaged. Check any grommets or rivets for signs of fraying or deformation. 
Lanyard Inspection 
The easiest way to go about inspecting a lanyard is to simply go from end to end.  
First, check the double-action opening on the snap hook. Make sure that both the lock and the gate are functioning—i.e., that they're holding securely and opening smoothly. Also make sure the hooks are free of damage, rust, or corrosion.  
If you are inspecting a shock-absorbing lanyard, check to make sure the shock-indicator threads aren't exposed (these are usually a different color than the rest of the lanyard). This could be an indication that the lanyard has been damaged or not been repaired after a fall.  
As you move down the lanyard toward the other end, check the webbing and stitching for tears, fraying, chemical or burn damage. These could result from a fall or improper use or storage.  
Carabiner Inspection 
Similar to all metal components, examine for deformities, cracks, damage, corrosion, or rust. Surface rust can be cleaned (try using water, baking soda, and steel wool), but any deeper rust means the carabiner needs to be replaced.  
Make sure the self-locking mechanism is in good working order. If the carabiner doesn't have a self-locking mechanism, it's unfit to be used for fall protection.  
Self-Retracting Lifeline (SRL) Inspection 
Whether you're using a standard or 3-way Self-Retracting Lifeline, the inspection process is the same.   
First, check the housing of the SRL to make sure there's no damage cracks or corrosion, and that all labels and fasteners are in place. 
Check the snap hook at the end of the line in the same way as described for the lanyard. Make sure the self-locking gate shuts and locks securely and the hook opens smoothly.  
There should be a thimble and ferrule helping secure the snap hook to the line. Check these to make sure they are securely affixed.  
Next, check the impact indicator, located between the line and the snap hook. In the event of a fall, the indicator is pulled out of place, exposing a band that is usually red. If this indicator is exposed, the unit has been used in a fall and not fixed. It should be removed from service.  
You'll need your work gloves for the final part of the inspection. Pull out the entire length of the line and inspect for kinks, cuts, abrasions, burns, corrosion, wear, fraying, or any damage whatsoever. 
Since the line is so vital in fall protection operations, it's important to closely examine every inch of cable in the unit. 
Allow the line to retract to make sure it does so smoothly. Pull out about two feet of line. Hold the unit above the snap hook and give the line a sharp, quick pull downward. The unit should lock right away, and no more line should slip out from the brake. Once the tension is eased, the line should retract smoothly into the unit. 
Inspection Frequency 
OSHA regulations require an inspection by a competent person of all fall protection equipment once a year and a thorough visual inspection (the process described here) be conducted before using any piece of fall protection equipment.  
ANSI standards are even more rigorous, requiring competent person inspections every six months.  
Routine pre-use inspections should be conducted before a job where equipment will be used. Depending on how often you use your fall protection equipment, it may be more efficient to conduct a visual inspection every morning at a set time. 
As long as you are conducting competent person and pre-use inspections as required, the inspection schedule will come down to a matter of what is right for your crew and company.  Using your downloadable OSHA inspection checklist regularly could help keep your crew safe.
Conclusion 
To download your free fall protection inspection checklist, just click here. 
We hope that by using our OSHA inspection checklist, you ensure your fall protection PPE does everything you need it to.  
While this list is not meant as a substitute for comprehensive training, we hope by putting this guide and checklist in your hands, your inspection process becomes more standardized, efficient, and—ultimately—safe. 
Share: