Fall Protection Post | A User Guide

November 6, 2022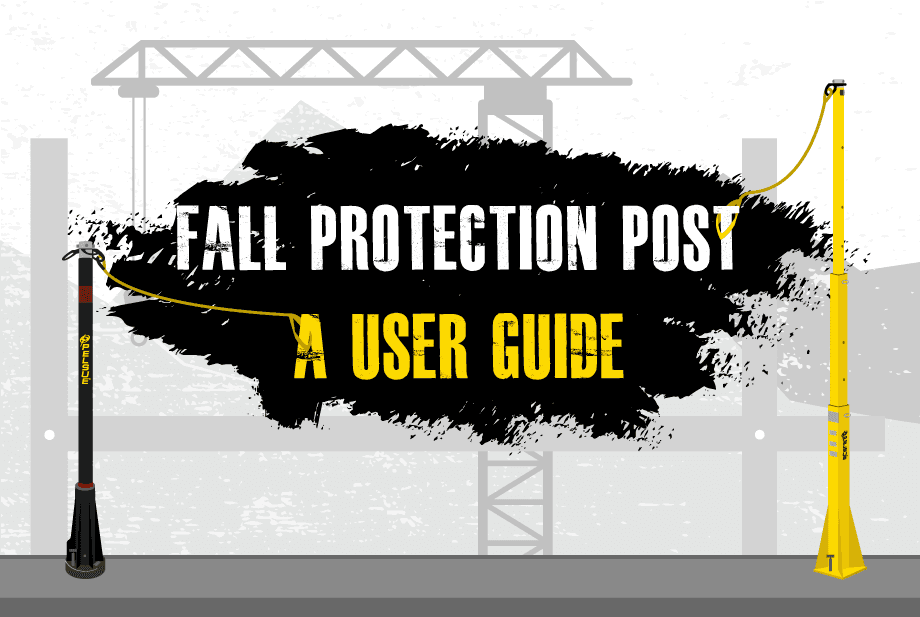 As an organization with more than half a century of experience designing and manufacturing fall protection equipment, we believe that there is no one-size-fits-all solution. That's why we love adaptable tools like our fall protection posts.
While our fall protection anchorage systems are designed to perform for workers in confined spaces, that's only a small portion of situations which require protection for workers.
For those situations, fall arrest posts are a potentially great solution. Whether they're permanent or temporary, they offer a fall protection alternative that can save lives and prevent injuries.
While a fall arrest post doesn't supply the full range of functionality needed to conduct confined space rescue and recovery, it can be used in conjunction with other systems to compensate for this. 
Whether you're unfamiliar with fall protection posts, comparing your options, or looking for more on your next purchase, we've made this guide with the goal of creating more informed customers.
With that in mind, let's take a detailed look at this unique tool. 
How Does a Fall Protection Post Work?
Like our LifeGuard and Davit systems, a fall protection post provides a form of overhead anchorage. 
Unlike our LifeGuard and Davit, the fall protection post uses a simple tie-off, rather than a mounted hoist or Self-Retracting Lifeline (SRL). This means that the lanyard is connected directly to the post and the harness with no intermediary. 
This works because the fall arrest post performs a similar function to an SRL. Falls cause sudden downward acceleration, and the fall arrest post responds to this force by flexing to absorb it. 
The fall protection post sticks up vertically from the surface to which it is attached, like an antenna, and is set back from the edge in order to prevent the worker from slamming against the side of the structure in a fall. 
Since the force of the fall travels through the strong medium of the post, it slows and stops the fall before the worker can build up too much momentum. 
Once the worker's fall has stopped, they can be rescued using your established rescue plan for the location. Again, since only a lanyard connects the worker to the post, a hoist will need to be attached using other means (our Rescue Pole and Quick Rescue Hoist being one example).
Since your fall arrest post needs to be able to handle sudden bursts of great force, it's important that you can securely mount it to a support structure that can handle it.
Depending on your specific situation, you may either need a temporary or permanent base plate. Some organizations and crews will need both base plates but can use one post with multiple bases. 
Our Uni-Lite Fall Arrest Post, for example, is compatible with a huge range of base plates: some of which are permanently welded to a surface, others which bolt or clamp on to roofs, rails, or beams. There are also temporary "spider base" mounts for deployment in the field.
Whatever base you choose, the surface or structure to which it is attached must be stable and able to bear the weight of the workers. 
When Should I Use a Fall Protection Post?
There are two determinations that need to be made first here: when do I need fall protection at all, and what circumstances make a fall protection post a better choice than a different anchorage system?
Let's tackle the former question first: OSHA requires employers to have fall protection systems in place any time workers are exposed to a fall hazard. 
OSHA considers workers to be exposed to fall hazards when they are working on an elevated location that is four feet or more above the surface or above a hazard like an open vat of chemicals or furnace.
There are certain situations where the four-foot minimum is modified: in shipyards, the minimum is five feet. The requirement for workers at construction sites is an elevation of six feet or higher, and that increases to eight feet for longshoring operations.
With that established, we can now turn to how to determine whether a fall protection post is appropriate for the given situation.
This question is also fairly straightforward. Ask yourself: is the work area a confined space? If so, then a confined space safety system like our LifeGuard and Davit systems is maybe the more appropriate choice.
In situations where fall protection is required in a more open setting and a base can be securely attached as described above, a fall protection post is likely the more suitable choice.
Remember that a fall protection post is only meant to arrest falls, and you will need appropriate rescue equipment at hand should it become necessary. 
For workers in construction, wastewater treatment, and other industries, a fall protection post is a crucial part of a larger fall protection toolkit that keeps workers safe while also making it easier and more efficient to do their jobs. 
What are the Different Kinds of Fall Protection Posts?
Many older models of fall protection and arrest posts look more like small attachments, not protruding that far from the surface of its base. While plenty of anchorages like this are still available, the engineering of fall protection posts has evolved.
By extending the length of the fall protection post, engineers also increase its ability to flex and absorb force. The more force is absorbed by the post, the less force is imparted to the attached worker.
While modern harness design standards help distribute the force of fall arrest over the worker's body, the risk of injury can still be further lowered by reducing the force of inertia on the worker. 
Materials also make a difference, especially as new technologies like carbon fiber materials massively increase the strength of the post while also decreasing the weight. 
Our Uni-Lite Fall Arrest Post makes use of carbon fiber to provide fall protection to up to three workers at once. Its ability to flex without breaking gives it unique advantages compared to other models. 
That does not mean that other strong materials don't have a place. Our Expandable Fall Arrest Post uses aluminum to perform the same function for a single worker, and its telescoping pole makes it usable in a greater number of situations without additional accessories.
FAQ
What are the three components of fall protection?
The three components of fall protection are anchorage, body support (i.e., your harness), and the connecting line between them. These are sometimes referred to as the ABCs of fall protection and should always be in place when fall hazards are present.
How often should I inspect my fall arrest post?
Like all fall protection equipment, your fall arrest post should be subject to a thorough inspection prior to every single deployment. Additionally, it should be inspected at regular intervals throughout the year and after being used to arrest a fall.
Is it possible to repair a fall arrest post?
It depends. If an inspection shows evidence of damage or wear, it should be immediately removed from service. Contact the manufacturer immediately and you will usually be able to send it to them for either repair or replacement.
What is the lifespan of a fall arrest post? Will I need to buy multiple over the course of 10 years?
The lifespan of equipment like fall arrest posts varies from user to user. Properly inspected and cared for, your post can last years and would only need replacement when inspections show signs of wear or damage.
The more frequently your post is used to arrest a fall, the greater the chance it will incur damage. There are other reasons having more than one post makes sense (an emergency backup on hand, simultaneous use in multiple locations), but a baked-in lifespan isn't one of them. 
Share: