DIT Tent | Why Our SolarShade® Tents are Favorites on Film Sets

August 15, 2022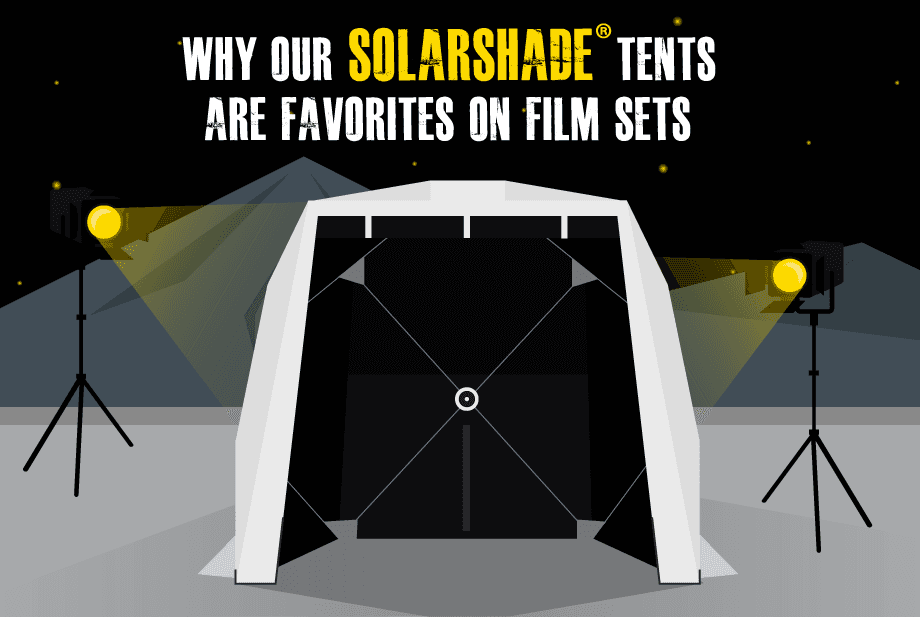 For 50 years, we've built our reputation for worker safety equipment in telecommunications, construction, and more. But it's not just people in these industries who rely on us. Our DIT Tent is proof of that.
In fact, one of the most popular uses for our well-loved SolarShade® sun-blocking tent is a Digital Imaging Technician (DIT) tent on film sets.
When we've talked about our SolarShade® series in the past, we've approached that discussion from the perspective of worker safety: after all, that is our overriding mission (and we'll have a bit to say about that here, as well). 
However, seeing as our SolarShade® series is so popular as a DIT tent, we decided it was definitely time to look at what makes it so well-suited for use by cinematographers and photographers, as well as anyone whose work involves watching monitors outdoors. 
Because while we always have and always will design solutions to keep workers safe from falls, confined space hazards, and other workplace dangers, we're always proud that our work can support workers wherever they're found, whatever they do. 
The Sun Blocking Tent for Digital Imaging Technicians
Our SolarShade® tents perform a function absolutely crucial for DITs on the job: they block out sunlight to prevent glare from interfering in the slightest with the monitor display.
Even a little bit of unwanted light can distort or wash out the colors of a shot, making it impossible to make informed decisions about when takes are complete. This leads to a dilemma: go back and reshoot or put out an inferior work.
The solar-blocking fabric that lines the interior of our SolarShade® tents does just this, allowing images on monitors to come through crisp and clear, just how the most scrutinizing viewer would see them.
That solar-blocking fabric helps create a dark interior, insulated from the hustle of the set where directors and cinematographers can focus better on the fine details of the work at hand.
Of course, they also benefit from one of the other major advantages of SolarShade® tents' special fabric: added safety on hot days.
Outdoor workers everywhere know that the temperature doesn't need to be pushing into record territory to create job conditions that are uncomfortable, dangerous, and even deadly. 
Heat stress is a real danger faced by anyone who works outside in the summer, and we've delved deep into heat stress its causes, symptoms, and prevention in a previous post. However strenuous your job may be, if you're outside, you're at risk.
The solar-blocking fabric can work in tandem with roll-up mesh windows to allow ventilation into the tent without compromising the quality of the picture coming across your monitors. 
The special solar-blocking fabric means you can make sure your video village is set up to be both safe and effective for your job—all day long. 
Cable Slot and Easy Set Up
Designed initially for telecommunications crews working to splice fiber-optic cable, our SolarShade® DIT Tent has a key feature that makes life on set easier: a 28-inch cable slot.
Instead of having to run your cable under the walls of the tent, a SolarShade® DIT tent makes it easy to hook up, manage, and unhook all the cable you need to set up your video village. 
Keeping organized on set is key to being able to pick up and move from setup to setup efficiently. 
Another of the tent's features that make it perfect for field work but also help anytime you have to pick up and move: the easy, fast deployment and strike. 
All Pelsue tents are designed to set up in minutes, and only need one person on hand to do it.  
Simply lay the tent on the ground so that it makes the shape of the letter M when you face it from the feet. 
Find the center poles (they're the ones marked with a yellow dot) and grab them. Walk the center poles inward until the roof of your tent is above your head. 
Push out the hubs on all four sides starting with the ones at the front and working your way to the back. We recommend staking down the tent for extra stability and support. 
To strike the tent, simply follow all these steps in reverse. For most people, it takes mere minutes to put up or take down a Pelsue tent. 
Model: 6506FS 
Deployed Size: 6'x6'x6.5' 
Weight: 20 lbs 
Folded Dimensions: 6"x4.6' 
Model: 6508FS 
Deployed Size: 8'x8'x6.5 
Weight: 31 lbs 
Folded Dimensions: 7"x5.5' 
Fabric: 200 denier urethane coated waterproof polyester. Mildew-resistant, UV protected, and flame retardant (to CPAI-84 & NFPA701 standards). 
Frame: Cast aluminum hubs and pulltruded fiberglass rods. 
Construction: Double-stitched binding, non-metallic snaps and rings. All exposed roof seams sealed. 
Thanks for Trusting Us for Your DIT Tents
It's always nice when one of our products makes a splash becomes a star with customers who don't already rely on us for their confined space safety, ventilation, and other needs. 
We're always glad to know that our SolarShade® tents are so well-liked among DITs across the country, and if you've found us for the first time looking for your new DIT tent, we believe you'll love the sun-blocking, convenient, and durable SolarShade®. 
It's more than ready for its close-up.
FAQ
What sizes is the DIT Tent available in?
The DIT Tent is available in two sizes, 6'x6' or 8'x8'. The ceiling height on both models is 6.5'.
Does the DIT Tent include stakes?
Yes! The DIT Tent comes with a set of 7 stakes and 4 ground loops to help you secure the tent.
Does the DIT Tent include a carrying case?
Yes! Your DIT Tent includes a carrying case with shoulder strap to make it ultra-portable. The larger model weighs only 31 pounds, so even that is easy to lift and carry.
Does Pelsue make other solar blocking tents?
Yes, though this tent is the one that best meets the demands of DITs and film crews. Our SolarShade® Work Shelter does not feature the cable slot, and our All-Weather Work Tent only has the solar-blocking fabric on the ceiling. 
Share: